Minolta Dimage Xi
​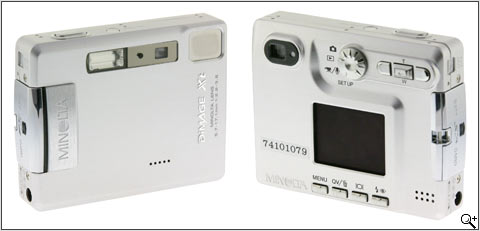 Description
New digital camera with a 3x optical zoom lens also features the world's fastest start up time* and increased image quality, further enhancing Minolta's popular DiMAGE camera line
Cologne, Germany, Hall 1.2, Stand G 2-18 (September 25, 2002) - Minolta Corporation announces today at Photokina the new Minolta DiMAGE Xi digital camera. Building on the success of the highly popular and award winning Minolta DiMAGE X, the new DiMAGE Xi is equipped with a 3.3 megapixel CCD (3.2 million effective pixels) as well as a host of new functions and features. 
The elegant new Minolta DiMAGE Xi features enhancements such as increased image quality, the world's fastest start-up time (1.2 seconds), and a seamless zoom range of 12x (combining both optical and digital zoom). Its camera body is made of aluminum with a brushed stainless-steel faceplate. 
"The DiMAGE Xi builds on Minolta's renowned strength in optics and expertise in miniaturization," said Jon Sienkiewicz, vice president of marketing, Minolta Corporation's Consumer Products Group. "What sets this sister model to the DiMAGE X apart from the crowd is its enhanced image quality, remarkable optical and digital zoom range, and the world's fastest start up time in such a small and compact camera body."
The new Minolta DiMAGE Xi is approximately ¾ of an inch thick and shares the same revolutionary folded 3x optical zoom lens as the DiMAGE X. Making a camera this thin would be impossible with conventional zoom lens technology. However, the unique design of the 3x optical zoom lens allows it to move, or "zoom," vertically within the camera body. That means that when the lens moves from wide angle to telephoto, it always remains inside the camera body. The 3x optical zoom lens is equivalent to a 37mm - 111mm on a 35mm camera, and with the incorporation of the DiMAGE Xi's 4x digital zoom, the camera has up to a 12x seamless zooming capability.
This lens employs five aspheric elements (including two double-sided) to ensure sharp, contrasty images at all focal lengths. In spite of its compact dimensions, the optical zoom has a fast, maximum aperture of f/2.8 - f/3.6 (wide - telephoto), which allows images to be captured in low light with little noise.
Besides increased resolution, the DiMAGE Xi has several other enhancements when compared to its sibling the DiMAGE X, including user-selectable ISO settings, optional date imprinting, spot autofocus (AF), an improved anti-reflection LCD and automatic e-mail file copy creation.
Images captured with the high-quality lens of the DiMAGE Xi are enhanced by Minolta's CxProcess image processing technology, which helps control sharpness, color reproduction, tonal gradation and noise. This same technology is used in the top-of-the-line Minolta DiMAGE 7Hi SLR-type digital camera. 
The Minolta DiMAGE Xi is built around a high-precision electro-optical system designed to maximize image quality. The system starts with a 3.3 megapixel 1/2.7-type interline primary-color CCD with 3.2 million effective pixels for fine high-resolution images. The pixel resolution of the CCD will produce 10 x 14 inch (B4-size) 150dpi photo-quality prints. 
* World's fastest start up time of any digital camera with an optical zoom.
A versatile multimedia tool, users can also make movie clips and add audio to their still images with the DiMAGE Xi 
A 16 MB SD (Secure Digital) Memory Card is included for image storage. About the size of a postage stamp, it is the smallest, high-capacity memory card currently on the market. These tiny cards are inexpensive and widely available. The camera also accepts MultiMediaCards. 
Tests
Test Imaging Resource très complet
Histoires
Achat
Photos à Pierrelatte
Minolta DiMAGE Xi Specifications
Characteristics

Values

Sensor

1/2.7" 3.34 megapixel (primary CFA) 

Effective pixels

3.2 megapixels (JCIA standard)

Image sizes

 • 2048 x 1536
 • 1600 x 1200
 • 1280 x 960
 • 640 x 480

Image formats

 • TIFF
 • JPEG (Super fine, Fine, Standard, Economy) EXIF 2.2

Sensitivity

 • Auto (ISO 50 - 160)
 • ISO 50
 • ISO 100
 • ISO 200
 • ISO 400

Lens

 • 3x optical zoom, 37 - 111 mm (equiv.)
 • F2.8 - F3.6
 • 9 elements in 8 groups (includes 5 aspheric elements) 

Digital zoom

Yes, 2x or 4x

Auto focus

Video AF

Auto focus areas

 • Wide focus area
 • Spot focus area

Focus distance

0.25 m - Infinity (9.8 in - Infinity)

White balance

 • Auto
 • Daylight
 • Cloudy
 • Tungsten
 • Fluorescent

Metering

Multi-segment (256 areas)

Shutter speed

2 - 1/1000 sec

Exposure compen.

+/- 2.0 EV in 0.3 EV steps

Flash

 • Built-In
 • Range: Wide 0.25 - 3.2 m, Tele 0.25 - 2.5 m, (at Auto ISO)
 • Modes: Auto, Red-eye reduction, Flash on, Flash off, Night portrait

Drive mode

Available (not spec'd)

Self-timer

10 secs

Movie clips

320 x 240, 15 fps, max 35 secs

Audio clips

 • Audio recording: 30 mins max
 • Audio caption: 15 secs max
 • Voice memo: 15 secs max

Viewfinder

Optical

LCD monitor

 • 1.5" TFT LCD
 • 110,000 pixels

Storage

 • SD / MMC
 • 16 MB SD included

Connections

 • USB 1.1
 • Video out

Power

 • Minolta NP-200 Lithium-Ion rechargeable battery
 • Charger included

Dimensions

85 x 72 x 20 mm (3.3 x 2.8 x 0.8 in) 

Weight (no batts)

130 g (4.6 oz)

Accessories included

Hand Strap HS-DG100, AV Cable AVC-200, USB Cable USB-500, 
SD (Secure Digital) Memory Card (16MB), Lithium-ion Battery NP-
200, Lithium-ion Battery Charger BC-200, DiMAGE Software CD
ROM (Includes DiMAGE Viewer) 
​
​
​
​
​